Charitable Giving
Since 1935, The NASWA Resort has been an integral part of the Lakes Region community. The Makris family feels a bond with those who frequent their property and restaurants and knows that giving back is the best way to show leadership and gratitude to the lovely community in which it has built a successful business and raised their family.
While the resort and its family members support many area charities, The NASWA has chosen several special causes for the focus of its charitable donations of time, money, and FUN-d raising events. Easter Seals, Veterans Count, and The Laconia Fire Department Life Saving Fund have a history with The NASWA Resort, built on respect, relationships, and a lot of love.
Peter Makris Memorial Ride and Run
Peter Makris was influential in the establishment of the Laconia Fire Department Life Saving Fund years ago when the need for a safety and rescue boat was demonstrated by the tragic loss of veteran firefighter Mark Miller. The community rallied around Makris' initial generous donation and, to this day, the division is totally funded through publicly donated money. The Peter Makris Memorial Ride and Run began after his passing to commemorate his generosity and to continue the efforts of the Laconia Fire Department and the Life Saving Fund. Over $450,000 has been raised by this memorial boat ride and bike event, which takes place during Laconia Motorcycle Week, and enables the community to follow The NASWA Resort's lead in providing for the safety of those who enjoy the beauty and recreational amenities of Lake Winnipesaukee.
Seven years ago, Veterans Count was added to commemorate Peter's lifelong commitment to taking care of his fellow veterans. Veterans Count is a program of Easter Seals with a mission to provide critical and timely financial assistance and services when no other resource is available to veterans, service members, and their families. The program exists to ensure their dignity, health, and overall well-being.  The program began in 2006, when Easter Seals' Board Member, Mike Salter presented the idea of combining public and private funding to provide comprehensive, emergency aid to veterans and their families when no other resource was available. Through a one of a kind Care Coordination model centered on highly skilled clinicians, meeting one-on-one with service members and their families and addressing critical issues while working toward developing long-term self-sufficiency, this program has flourished. Entirely volunteer-based, Veterans Count now has 4 chapters across the state of New Hampshire (in Nashua, Manchester, Seacoast and Lakes Region) and boasts almost 100 dedicated volunteers.
Click here to learn more about the Easter Seals NH "Veteran's Count" Program which this run benefits.
Learn more here about this annual event, and download your registration form!
Easter Seals
"We are grateful for the popularity The NASWA enjoys and wanted to work with an organization that serves more than just our neighborhood. We wanted the benefits to extend across the State of New Hampshire and also across age and demographic lines," says General Manager Cynthia Makris, who serves on the Board for Easter Seals. Since Easter Seals (Easter Seals – New Hampshire) helps people through the whole lifecycle, with a broad range of services for everyone, from disadvantaged children to veterans, to adults with disabilities and the elderly, it offered the perfect match for The NASWA family and its family of guests.
The Land & Lake Poker Run, presented by HK Powersports, has been an event that not only raises money but raises the summer fun level for Laconia since 2000! We have raised over $1.58 million for Easter Seals.
Boaters, bikers, drivers, kayakers—even canoe and personal watercraft enthusiasts—all join in to make the multi-faceted run an important date on event calendars. While locals look forward to the annual event, many tourists plan their vacations around it. The Poker Run has various routes and pick up points, depending on the vehicle or vessel, which also helps make the event "weather-proof." Poker chips are picked up and are then turned in at The NASWA Resort where the Poker Run ends and the party starts!
Check out the AWESOME Arial Photos taken of 2022's Poker Run!
Benefitting Veterans Count. Veterans Count is the philanthropic arm of Easterseals Military & Veterans Services (MVS), provides critical and timely financial assistance and services when no other resource is available to service members, veterans, and their families, to ensure their dignity, health, and overall well-being.
Isaiah's Ark
When Barry Uicker decided to help families with children fighting cancer at the Children's Hospital at Dartmouth (CHaD, www.dhmc.org), he thought about his own concept of the perfect day on the lake—which included going to The NASWA Resort for lunch. He bought a 29' Rinker Captiva that could easily provide small groups with a comfortable, safe, and fun experience of Lake Winnipesaukee and named it Isaiah's Ark (www.isaiahsark.org). As he looked for support, he found Silver Sands Marina—his starting point—and warmth, generosity, and a welcome dock at The NASWA. There, Cynthia Makris and her staff come to greet the families who visit as part of their "day away" from the hospital and enjoy a hearty lunch, a specially-created, personal gift bag, use of the paddle boats, and the family hospitality that makes The NASWA a favorite spot. "Cynthia and her staff really provide the 'red carpet' treatment and go overboard making everyone feel at home—they even learn the kids' names and ages," says Uicker, "It's so important for these families to spend some time together out of the hospital and often, people don't want to leave there—it's such a fun place to be!"
Uicker notes that he didn't have to "sell" the Makris family, they understood the importance of what he hoped to accomplish with the escape from the daily hospital routine. "We are so grateful for our family's health," says Cynthia. "It is heart-warming to provide families who are fighting disease and trying to be strong for each other, a place where they can lay that weight to rest for a while and enjoy the magic of playing on the lake. We try to make them feel at home and a part of our family," she added.
AMENITIES
With outstanding amenities, a central Laconia location, and the perfect room for every guest, The NASWA Resort is the perfect place for your summer vacation. We are located directly on Lake Winnipesaukee, boast the largest private sandy beach on the lake, and offer free boat slips for our guests.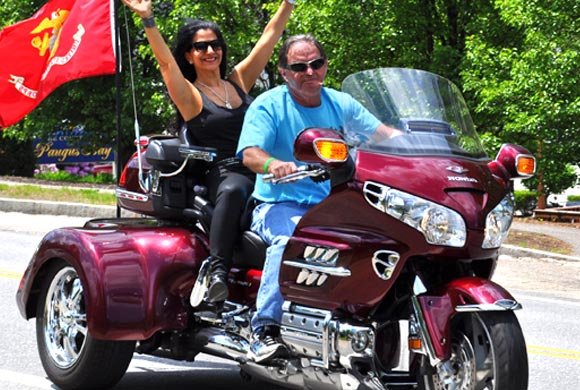 UPCOMING EVENTS
We are always adding to our events calendar to make every stay special. Join us for fun theme events, like our Mardi Gras Weekend, our legendary birthday celebration, Parrothead Weekend, and Reggae Fest. There is an event for guests of all ages to enjoy at The NASWA Resort.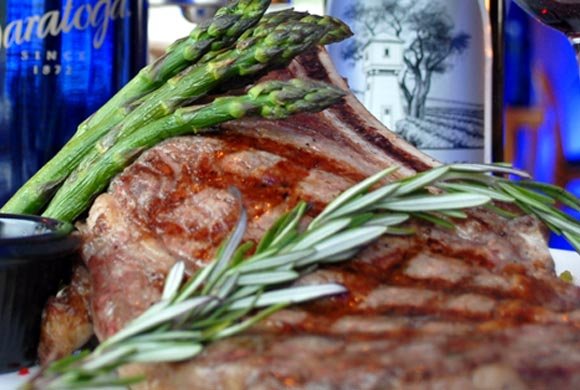 BLUE BISTRO
The Blue Bistro offers Brilliantly Crafted Cuisine to our guests and visitors of the Lakes Region. Join us for delicious dining and delightful views of Lake Winnipesaukee.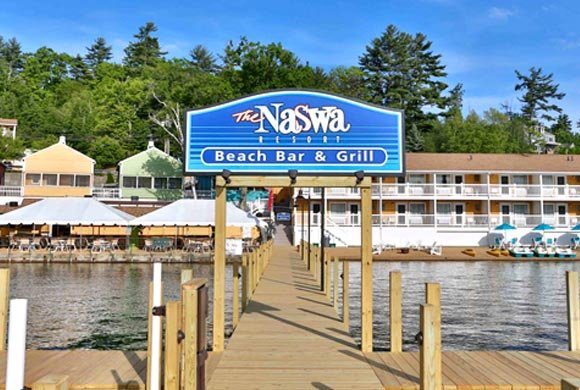 BOOK YOUR STAY
There's plenty to do all summer long, and plenty of memories to take home with you. Start making them now – your summer stay is a click away. Book your summer stay on our website now for the best price and experience.