Rates and Reservations at the NASWA
Whether you choose a cottage, a suite or a room at the inn at the NASWA Resort, you'll enjoy a wonderful vacation in the New Hampshire Lakes Region. The NASWA offers rates from May to October and is considered one of the top options for Lake Winnipesaukee lodging! Our family looks forward to hosting your family this summer – and all the years to come! Contact us to discuss reservations today!
A valid ID and Credit Card are required at check-in.
Checkouts
Rooms: Check In after 4:00pm, Check out by 10:00am
Cottages /  Paugus Suite: Check in after 4:00pm, Check out by 10:00am
Smoking Protocols
All Rooms, Cottages, Balconies and Terraces on the property are NON-Smoking. Guests smoking in any of these locations will be charged a minimum of a $300.00 cleaning fee.
Rates
Midweek rates are for Sunday through Thursday nights when Sunday is not reserved with a Saturday arrival. Weekend rates are Friday & Saturday or Saturday & Sunday, 2 night minimum stay required. Holidays and Special events may require additional night stays.
Rooms, Studio Suites and One Room Cottage rates are based on double occupancy. Two Bedroom Cottages are based on quad occupancy and The Paugus Suite is based on six. Any additional guests in units are $15 plus tax per day. Up to two children under 18 stay free with the existing bedding.
Rollaways are available for an additional $15.00 per night. Subject to availability and select room types. 
AARP & Military Discount
Save 10% off the published midweek rates for AARP members 60 and over and Military Active Duty, Reserve and Retired persons. ID must be presented upon check in.  Military and AARP discounts are subject to availability and not valid on Specials Events, Holidays and weekends. The discount cannot be combined with any other discounts or multiple night specials. Discounts apply only to room occupied by the member.
Pet Friendly
Pet Friendly rooms are located in the NASWA Inn building, 2 designated Two Bedroom Cottage, 2 One Room Cottage, and 4 lower level Studio Suites. Please visit our Pet Friendly Page.
Deposits
Deposits on one night stays are required to be paid in full at the time of reservation. When reserving two nights or longer a deposit of 50% of the total stay is required. Personal checks may be used for deposits only 14 days prior to arrival. Checks returned due to insufficient funds will be charged a $25.00 fee. Balance is due in full upon arrival. We accept all major credit cards.
Cancellations
Daily reservation deposits will be refunded with a notice of cancellation prior to seven days of arrival, less a $25 processing fee. Notices received within the seven-day period will forfeit the entire deposit. Weekly, five-day and special event reservation deposits are non-refundable.
Confirmations
Forwarded upon receipt of reservation deposit. PLEASE READ your confirmation to check arrival and departure dates and cancellation policy.
Early Departures
Should you leave before your reservation expires, you will be charged in full for remaining days. NO REFUNDS FOR EARLY DEPARTURES.
Dock Space
We offer complimentary overnight dock space for our houseguests. Dock space allows for 1 boat or 2 jet ski's per reservation and we offer tie off rings for Jet Ski's; both are subject to availability. Boats, trailers and Jet Ski's must be registered at the front desk at the time of arrival. Trailer parking is available on property in a designated lot. Please make sure when making your reservation you let us know you will have a boat and or Jet Ski and trailer.
Parking
Due to limited parking we ask no more than ONE vehicle per unit and two vehicles per two bedroom cottage. Please inquire about extra parking space location for additional vehicles prior to arrival.
Guest Courtesy
The NASWA is a family resort and out of respect for our guests with children of all ages we request that all guests keep late night noise to a minimum at all times.
The NASWA Resort reserves the right to terminate a reservation without refund if more than the reserved number of people occupy any given unit, if excess noise continues to be a concern and at any time a occupant causes unnecessary damage to the unit or property. The discretion of such removal is of the management staff.
Guests leaving units needing excessive cleaning will be charged a minimal fee of $75. Please read our Cottage Rental Information for more details.
Groups and parties of 6 or more may be required to leave a security deposit of $150 at check in, refundable upon inspection of your cottage on day departure.
Cottages
Our 18 cottages are as unique as your family. Choose from 1 room or 2 bedroom options to accommodate your needs. Most of our cottages overlook the water and offer the comforts of home, right here at The NASWA.
ONE ROOM
Our one room cottage features an open floor plan with one queen or two full beds, a refrigerator, microwave, kitchenette, and flat screen TV. The maximum occupancy of these cottages is 2-4. [view gallery]
TWO BEDROOM
Large enough to sleep 6, our two bedroom cottages include 2 separate bedrooms and a living room with a sleeper sofa. Enjoy a full kitchen, screened-in porch with views of the lake. These cottages are perfect for families with children of all ages. [view gallery]
Aquavista Rooms
Our AquaVista building features rooms with king-sized beds and rooms consisting of two full beds. The bedding in these rooms has all recently been upgraded to feature the latest in comfort and convenience. All rooms feature air conditioning, phone, flat screen TV, mini-fridge and coffee pots.
AQUAVISTA BEACHFRONT
Our AquaVista Beachfront features rooms with a king sized bed and rooms consisting of two full beds. All rooms feature air conditioning, phone, flat screen TV, coffee maker, mini-fridge and a private balcony.  [view gallery]
AQUAVISTA TERRACE
Our AquaVista Terrace features rooms with two full beds. All rooms feature air conditioning, phone, flat screen TV, coffee maker, mini-fridge and patio area facing parking area.  [view gallery]
AMENITIES
With outstanding amenities, a central Laconia location, and the perfect room for every guest, The NASWA Resort is the perfect place for your summer vacation. We are located directly on Lake Winnipesaukee, boast the largest private sandy beach on the lake, and offer free boat slips for our guests.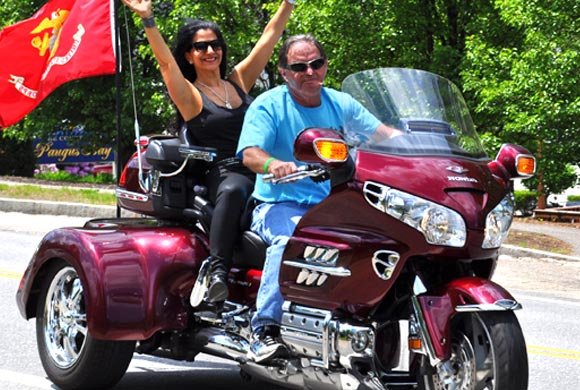 UPCOMING EVENTS
We are always adding to our events calendar to make every stay special. Join us for fun theme events, like our Mardi Gras Weekend, our legendary birthday celebration, Parrothead Weekend, and Reggae Fest. There is an event for guests of all ages to enjoy at The NASWA Resort.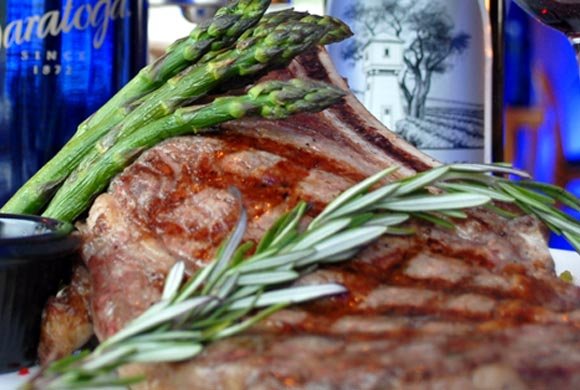 BLUE BISTRO
The Blue Bistro offers Brilliantly Crafted Cuisine to our guests and visitors of the Lakes Region. Join us for delicious dining and delightful views of Lake Winnipesaukee.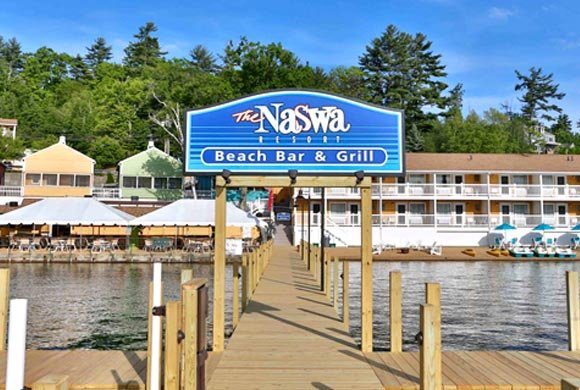 BOOK YOUR STAY
There's plenty to do all summer long, and plenty of memories to take home with you. Start making them now – your summer stay is a click away. Book your summer stay on our website now for the best price and experience.