Experience the Lakes Region
NASWA House Guests – Stop by the Front Desk for a Summer Fun Pack to local attractions and shopping!

NEW North Water Marine
10% Off Pontoon Boat Rentals. Let Captain Tim take you and your party out on one of our luxury Coach pontoons. No worrying about who will drive or navigate! Call Front Desk for details

NEW Castle in the Clouds
Coupons are available at the Front Desk.
Custom Lake Tours – Show a room key and get 10% off. Reserve a time today! Pet-Friendly tours are also available.
M & M Island Cruises – Call to book. Show a room key for specials. Proceeds help those in need to receive a diabetic service dog. Learn more.

Highland Mountain Park – Let the trained coaches set you up for fun and success! Coaches will help build a solid foundation of riding skills where you can progress to the next level. From beginners to seasoned pros, Highland is all about training and trails. To help you make the most of your first visit, we've answered some of the common questions we receive from riders. NASWA House Guests get 20% off Find Your Ride packages (all ages) or 20% of Kids Camp (ages 8-14).
Winnipesaukee Scenic Railroad $2.00 off per ticket. NASWA House Guests can book online. Ask a front desk associate for assistance.
The Innate In You – Show a room key and get $10 off any service of one hour or more with any therapist. Limit one per person.

Lake Winnipesaukee Adventures – NASWA Guests can call to reserve and show a room key or book online. Receive an extra hour or discount. See a front desk associate for code.
603 Paws– 10% of your pet's needs when showing a room key.
Planet Fitness Day Passes
Pirates Cove Mini-Golf Save $1.00 Laconia/Weirs Beach or Winnisquam
Polar Caves NAWSA guests 25% off their tickets when they Book Online using a code from the Front Desk.
Tanger Outlets Coupons available at the front desk

Winnipesaukee WakeSurf – NASWA Guests save 10% when showing a room key.
Offering:
Wake Surf Lessons
Wakeboard Lessons
Waterski Lessons
Tubing
Charters
Private Lessons
Kids Camp
Lakes Region Alternative Fitness – NASWA guests $5 off our single drop-in classes. Guests will need to reserve a spot online. offer Bungee fitness, Pole fitness, Aerial Silks, Chair Dance, Belly Dancing, Burlesque, Yoga (cardio & slow flow), Ladies & Teens Self Defense, & more.
Cake Theatre – Don't miss out on seeing World Famous Recycled Percussion at The Cake Theatre in Laconia, NH. NASWA House Guests can visit Cake Theatre and receive 20% off tickets. See the code in your email confirmation or see the front desk.
Lake Port Opera House – The Lakeport Opera House is in the heart of the Lakes Region. We are an elite venue offering a blend of high-end style and historic charm. We offer live musical performances, theatre productions, and other community-focused events. This 140-year-old building has been beautifully renovated and is also available to host corporate events and other private gatherings. NASWA Guests can save 20% on shows. See the front desk for the promo code.
Weirs Beach Jet Ski Rentals – 10% off! Located at the Winnipesaukee Pier
10 Scenic Hiking Trails – "Hiking in New Hampshire means access to some of the best sights and sounds in New England. From mountain vistas to babbling brooks to majestic waterfalls, there might not be a better place to explore the great outdoors than in our beloved Granite State. If you're new to the world of hiking, don't be daunted. There are plenty of ways to start hiking without putting yourself in danger. Try these trails that are perfect for beginners" Only in New Hampshire.
THE NAZBAR & GRILL
Be transported to the Caribbean at the "World Famous" NazBar & Grill. The perfect lake sunset welcomes you, and with a cold tropical drink in your hand and a tasty menu for lunch and dinner, you'll get a taste of paradise!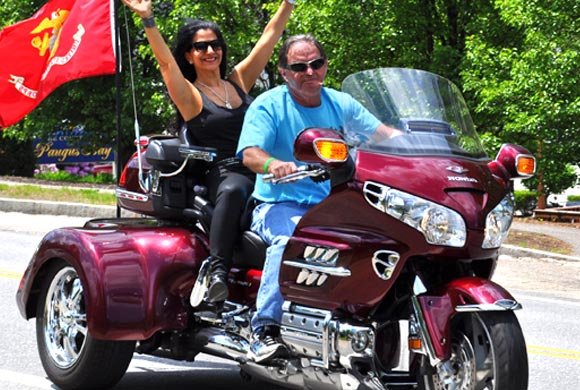 UPCOMING EVENTS
We are always adding to our events calendar to make every stay special. Join us for fun theme events, like our Mardi Gras Weekend, our legendary birthday celebration, Parrothead Weekend, and Reggae Fest. There is an event for guests of all ages to enjoy at The NASWA Resort.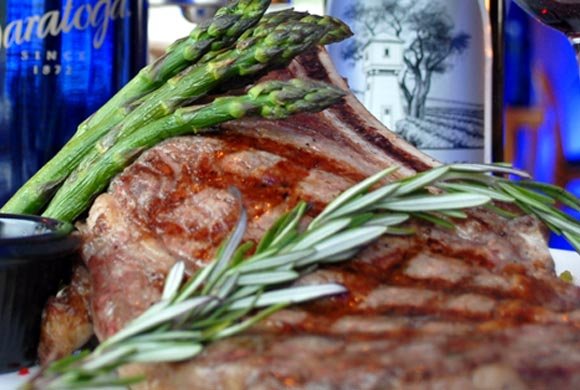 BLUE BISTRO
The Blue Bistro offers Brilliantly Crafted Cuisine to our guests and visitors of the Lakes Region. Join us for delicious dining and delightful views of Lake Winnipesaukee.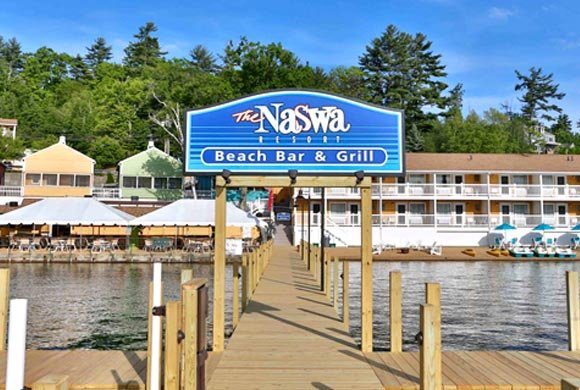 BOOK YOUR STAY
There's plenty to do all summer long, and plenty of memories to take home with you. Start making them now – your summer stay is a click away. Book your summer stay on our website now for the best price and experience.