17th Annual Peter Makris Memorial Run
Saturday – June 10, 2023
While the "Official Kickoff to Laconia Motorcycle Week" is ride-centric, the reason we ride is also of prime importance. Peter Makris, the patriarch of the legendary NASWA Resort, the Official Hotel of the rally, was well-loved and is now well-remembered in the 17th Annual ride in his honor, The Peter Makris Memorial Run.
The annual Peter Makris Memorial Run has to date raised over $500,000 for Veterans Count and embraces the aspects of life that meant most to Peter—family, friends, The NASWA, and giving back to his Laconia community. As a proud U.S. military veteran, Peter relished the friendship of his fellow U.S. Marine Corps Leathernecks and the group has become an integral part of the event, flying their colors to honor his service and memory.
Known and recognized as a leader of the community and as the warmest smiling face at The NASWA Resort that Peter owned with his wife, Hope, he took every opportunity to enjoy the beauty of his home state, and to give back. If not boating or riding with friends, Peter would be found welcoming visitors from his customary seat at the entrance to the NAZBar & Grill. Having built a career as an attorney after serving in the U.S. Marine Corps, Peter and Hope raised their family in the hospitality business of The NASWA Resort. He was instrumental in providing the Laconia Fire Department's water rescue team's first boat and led the rest of the lake business community to join in. He rode until the age of 82, often with Hope and encouraged his daughter, Cynthia, who now heads the resort, to ride as well. Though he passed 16 years ago, everyone who ever met him remembers his beaming smile and warm handshake.
The Beneficiaries
Thanks to the support of the ride, Easter Seals NH "Veterans Count" Program now has a Lakes Region Chapter, with Cynthia Makris, Peter's daughter, as Vice Chair. The organization supports all U.S. military—active duty, veterans and their families with important personal, financial and family services. Veterans Count has proven a valuable resource to area vets and The Peter Makris Run has donated over $225,000 to this venerable organization.
A staunch supporter of the Laconia Fire Department, Makris led the start of the Fire Department's Life Saving fund and helped purchase the first Fire Rescue boat. That Life Saving Fund, funded by the Peter Makris Memorial Run for the past 16 years, continues to finance the water rescue unit of the Laconia Fire Department since no state tax dollars were appropriated for this important Lake Winnipesaukee service. Over the years, the charity expanded its support to include the area Community Emergency Response Team (CERT).
Additional donations to:
Building Dreams for Marines, The Belknap House homeless shelter in Laconia and in 2020 provided 60 boxes of solar Christmas lights for our heroes at the NH Veterans Home in Tilton.
"My family remembers what was dear to our father," says Cynthia Makris, president of the NASWA Resort, "My 96-year old mother, still active in the operations and events at The NASWA, rode with Peter for years and supports his causes. Our family strives to keep his memory alive by giving to those my father supported—our town, our veterans and those who protect us. This annual run brings his life full circle and allows us to give back to Laconia in my father's memory," she adds.
17th Annual Peter Makris Memorial Run
Saturday June 10th 2023
Bikers and Boaters Unite!
Donations are Welcome!
Make a difference by donating to the Laconia Fire Department Life Saving Fund, Water Rescue Teams and Easter Seals NH "Veterans Count" Program. Click here to contribute to their fund!
Would you like to be a sponsor of this event? Contact us today.
For more information, please call us at 603.366.4341
Want to get in on the ACTION?
Are you a Business and want to Sponsor the Run?

CLICK HERE

for more information.
Levels Include:
Online Registration is now OPEN, but HURRY it closes on Thursday, June 1st but you can still call 603-366-4341 to register by phone or in-person on Saturday!*
Schedule: Please note NEW Times!

8:30am – 9:30am Registration in Two-Level NASWA Parking lot Bikes/Boaters meet at NASWA Resort. Go across the street to the registration tent in the two-level parking lot. Receive wrist band, Commemorative 17TH Annual David Uhl T-Shirt, SURPRISE 100th Laconia Motorcycle Week Memento, beer chip and sign NHMS waiver.
9:30am – 10am Final Gathering and placement of Motorcycles and Cars in NASWA Parking Lot
10am Opening Ceremonies and Blessing of the Bikes!
10:30am – 12:30pm KICKSTANDS UP! Motorcycles are escorted by NH State Police to NHMS then on a beautiful ride around the lake.
12:30pm – 3pm The Party Rolls On… Live Music with The Legendary James Montgomery Band.
VIP Packages ($75 PP) Include: Running in front of the pack, priority parking and a $10 NASWA gift card!
This special event commemorates community leader, biker and boater Peter Makris and his dedication to the Laconia Fire Department Lifesaving Fund and Water Rescue Teams, Easter Seals Veterans Count and Lakes Region CERT Team.
The Peter Makris Memorial Run fully funds the Laconia Fire Department's Life-Saving Fund and water rescue boats in Peter's Memory. Over $200,000 has been donated to Easter Seals Veterans Count Program which helps Veterans and their families in NH.
We THANK YOU… The faithful riders and boaters who help us in our mission. AGAPE and SEMPER FI.
THANK YOU FOR YOUR SUPPORT!
We had an AMAZING TIME last year! Thank YOU for helping make it all possible!
AMENITIES
With outstanding amenities, a central Laconia location, and the perfect room for every guest, The NASWA Resort is the perfect place for your summer vacation. We are located directly on Lake Winnipesaukee, boast the largest private sandy beach on the lake, and offer free boat slips for our guests.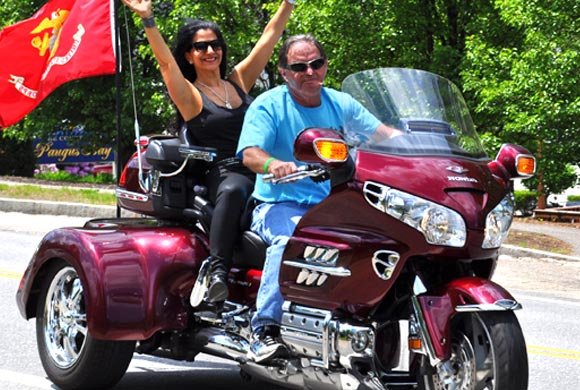 UPCOMING EVENTS
We are always adding to our events calendar to make every stay special. Join us for fun theme events, like our Mardi Gras Weekend, our legendary birthday celebration, Parrothead Weekend, and Reggae Fest. There is an event for guests of all ages to enjoy at The NASWA Resort.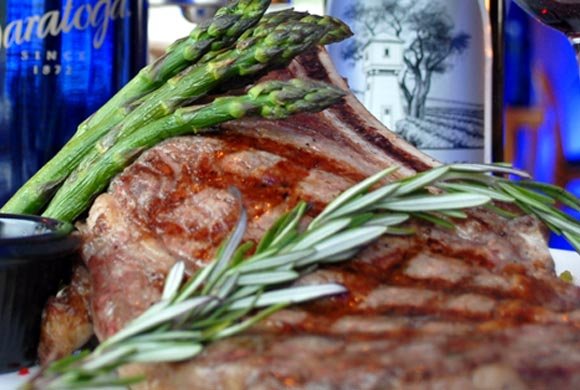 BLUE BISTRO
The Blue Bistro offers Brilliantly Crafted Cuisine to our guests and visitors of the Lakes Region. Join us for delicious dining and delightful views of Lake Winnipesaukee.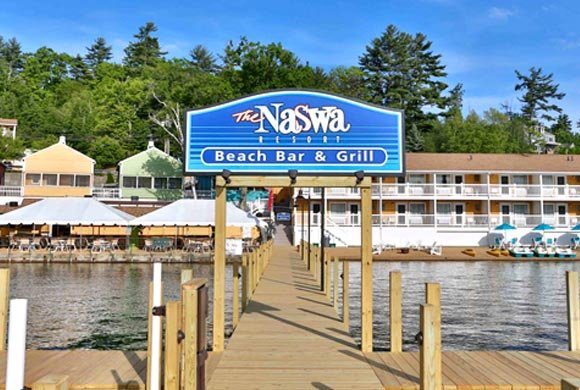 BOOK YOUR STAY
There's plenty to do all summer long, and plenty of memories to take home with you. Start making them now – your summer stay is a click away. Book your summer stay on our website now for the best price and experience.